Tooth-Saving Root Canal Therapy in Bowie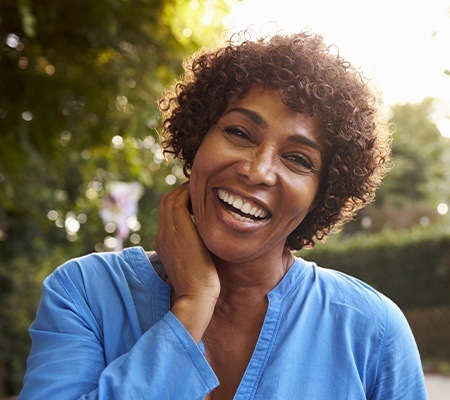 At Ambiance Dental Spa, our goal is always to protect your smile from the devastating consequences of decay, infection, and trauma. One of the ways in which we save teeth is by performing root canals in Bowie. This restorative treatment has the potential to relieve your pain and spare you from an extraction.
The Root Canal Therapy Process
The root canal is the pulp-filled cavity in the root of your tooth. When your tooth suffers damage, or when this area becomes infected, it may be necessary for your dentist to perform root canal therapy.
During the treatment, the dentist will use special tools to create a tiny hole through which they can access the root canal. Then, they'll gently clean out the damaged or infected area. Once that step is complete, they'll fill in your tooth with a special material and seal it. A crown is often necessary to protect a tooth once it had undergone root canal therapy.
The treatment can be either a minor or major undertaking, depending on the extent of the damage to the tooth. It may even take multiple appointments. When you come in to talk to your dentist, they'll let you know more specifics about how you can expect your procedure to go.
How to Tell if You Need a Root Canal
Here are some major signs that you may need root canal therapy:
One tooth is much darker than the ones around it
You have a pimple-like sore on your gums
You have a severe toothache
One of your teeth is extremely sensitive to temperature changes or pressure
Even if you are not suffering any of the above symptoms, you might still need a root canal if you recently suffered tooth trauma or if you have a dead tooth (a tooth that has stopped receiving blood flow).
If you suspect you need root canal therapy, don't delay getting treatment! If your tooth is infected, there is always the danger that the infection will spread and attack the bone that is supporting the tooth. You could even suffer from a fever or other serious systemic health problems. The sooner you see your dentist, the better.
Root Canal Therapy Is Better Than an Extraction
Some individuals may be afraid of root canal therapy or feel that it is too expensive, so they opt to have their tooth extracted instead. That's a mistake! An extraction may be simpler and cheaper in the short-term, but a missing tooth can lead to oral health complications later on. Plus, filling in that gap in your smile with an implant or bridge may cost quite a bit of money.
There is no reason to be fearful of root canal treatment! Your dentist will make sure you're completely numb during the procedure, so you shouldn't feel a thing. Once all is said and done, you'll be in less pain than you were before the root canal. Then, you can go back to enjoying your life with your expertly restored smile.