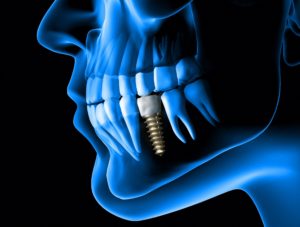 If you're missing teeth, dental implants rise above all other tooth replacement options. Unlike any other treatment, they replicate the entire tooth structure. This offers exceptional benefits because they closely look and feel natural. They are also proven to last with over a 95% success rate to invest in your oral health while completely transforming your daily life. Here are 5 ways dental implants will improve your quality of life.

1. Give Your Self-Esteem a Boost
You know firsthand the appearance of your smile affects your self-esteem. After you lost a tooth, you instantly felt insecure about your smile. You may now even avoid certain personal, social, or career settings because you're too embarrassed by your teeth.
A dental implant fills the empty space using a solution that looks natural. All-ceramic material is used to carefully craft your restoration to match your natural teeth. You can chew, speak, and smile with confidence to improve your outlook on life.
2. Preserve Your Jawbone
When you lose a tooth, you also experience bone loss in your jaw because it's not stimulated by the root. Over time, your remaining teeth lose support, so they drift toward the open space. This creates alignment and bite issues that impact your oral health. Not to mention, you'll have a heightened risk of additional tooth loss.
A dental implant is the only treatment to stop bone loss in your jaw by replacing the root with the implant post. The post stimulates new bone growth to protect your jaw's density while also fusing to it. This stops dental drift to improve your oral health.
3. Enjoy Your Favorite Foods Again
New innovations in dentistry have enhanced the fit and function of traditional dental prosthetics, but they will never truly feel natural. They will always have their limitations. Dental implants allow you to regain as much as 70% of your natural biting force to enjoy your favorite foods again. Your jawbone provides a secure foundation for your restoration. You'll never need to worry about any slipping or irritation, so you can maintain a balanced diet.
4. Choose Peace of Mind
Dental implants eliminate stress about the future because they are proven to last for several decades with the right aftercare, like maintaining your oral hygiene and visiting your dentist regularly You will never need to worry about having them replaced because they can last for a lifetime for a cost-effective solution.
5. Save Time
Your schedule is busy. You don't have the time to deal with messy adhesives, long cleaning routines, or appointments for adjustments. You'll save time with dental implants because you care for them just as you do your natural teeth.
Invest in Your Quality of Life
You don't need to live with the challenges created by tooth loss. You can enjoy the next best thing to your natural smile with dental implants. It's never too late to invest in your quality of life.
About Ambiance Dental Spa
We are more than your average dental office. We raise the bar for exceptional dental care using the latest advancements in dentistry. We can rebuild a beautiful smile with dental implants to improve your health and your life. Contact our office today to schedule your consultation.