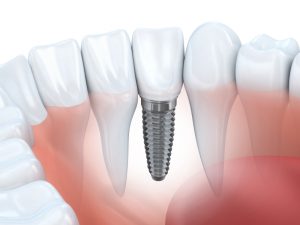 If you're missing one or more teeth, you don't have to tell us that you're ready for a replacement. As your dentist in Bowie, we know the effects of missing teeth are significant — diminished self-confidence in addition to difficulty eating and speaking are just a few of them. Guess what? Dental implants provide a comprehensive replacement so good some people call it nature's rival. Are you intrigued? Keep reading to learn more about this fantastic option offered by your doctors at Ambiance Dental Spa!
Dental implants, a whole-tooth replacement
When you've lost a tooth, you're missing the visible portion as well as its root. So why would you choose a fixed bridge or non-implant supported denture, which only replace half? Dental implants provide a comprehensive replacement — giving you back the missing crown as well as its root.
How dental implants work
Dental implants are sort of like little screws. Tiny and titanium, they're inserted directly into the space left by each missing tooth — and during a recovery period of about six months, your jawbone slowly fuses with the titanium. It's a process known as osseointegration, and it's what makes the new tooth replacement as sturdy as your natural teeth.
Candidates for dental implants
Dental implants require plenty of supporting jawbone structure for successful anchoring. If too much has been lost due to tooth loss, bone grafting can help. Additionally, patients must be in solid oral and overall health to be considered for dental implants — those with advanced stages of gum disease, HIV or diabetes are generally not good candidates.
Dental implants are absolutely the best investment
Because nothing else replaces the missing tooth and its root like dental implants, you really can't choose a better method of restoring your smile. And like any investment, dental implants do come with a pricetag — but anyone who has had the treatment will tell you it's worth every single penny.
Some of the most common advantages of dental implants include:
Increased oral health thanks to the prosthetic root, which stimulates the jawbone to keep it healthy and whole.

A more youthful, fuller-looking face.

Freedom from messy over-the-counter denture adhesives

Restored ability to eat, speak and smile without fear or worry due to an ill-fitting device.
Wondering if you're a candidate for dental implants in Bowie? Don't wait another day to get started rebuilding your smile. Contact Ambiance Dental Spa to find out if you're a good candidate for the treatment today!