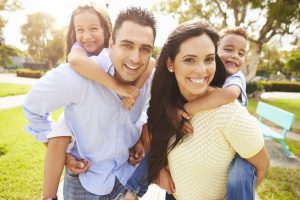 Ambiance Dental Spa cares for the dental health of both individuals and families throughout the Bowie area.  Dr. Clarine Green Hightower and Dr. Yumna Valiulla team their skills and experience for the best family dental practice in Bowie, MD.
Our comfort is outstanding
Who wouldn't feel at ease in a warm, welcoming environment?  That's what the staff at Ambiance Dental Spa creates for patients each and every day. A relaxing atmosphere, pain- and fear-free services and a gentle attitude preserve your family's oral health and sense of well-being, too. Plus, our staff is committed to this state of the art dental practice. You will enjoy seeing the same friendly, helpful people each time you visit.
Our beautiful treatment rooms include warm towels and massage chairs to soothe you during dental exams, cleanings, restorations, and cosmetic services. Plus, our Bowie family dentists  interact exceptionally well with the youngest of  patients, getting exams and cleanings done and teaching the basics of brushing, flossing and tooth-friendly nutrition  in an engaging, kid-friendly way.
Convenience is Important
Everyone at Ambiance Dental Spa understands that life is hectic, and we know it's worrisome to miss work and school for dentist appointments.  As such, the office is open late so mom, dad, kids and grandparents get necessary dental care without the stress they don't deserve.
Plus, to accommodate modern family budgets, Ambiance Dental Spa offers many ways to pay, including no interest Care Credit and Lending Club. Check our website for details on the Ambiance Dental Savings Plan as well or call the office to learn more.
Your family requires precise care
The family dentists in Bowie deliver a wide array of services to keep smiles healthy for a lifetime. When problems arise, modern restorations fill gaps and reinforce and beautify failing enamel. For the attractive teeth and gums, cosmetic services straighten crooked teeth, whiten tooth color and modify shape.
Naturally, the foundation of a great smile is routine dental care. For at-home oral hygiene, Drs. Green High Tower and Valiulla encourage the American Dental Association's advice: twice daily brushing with a soft brush and fluoride toothpaste for 2 minutes, along with careful flossing to eliminate toxic sticky plaque along the gum line and interdental spaces.
Your family dentist advises semi-annual examinationvs and cleanings beginning around age 2 and extending through the senior years. Check-ups spot problems before they become complex and expensive. Digital x-rays uncover hidden decay and any issues with roots and bone structure.
Restorative services halt consequences of missing teeth. These treatments include:
mouthguards for TMJ dysfunction and teeth grinding (bruxism)
tooth-colored fillings
porcelain crowns
dental implants
endodontics
dentures
bridgework
Cosmetic treatments address aesthetic issues:
KöR

at-home teeth bleaching to brighten teeth with the deepest of stains
Zoom! In-office teeth whitening for dramatic results in about an hour
orthodontic correction with Invisalign clear aligners or Six-Month Smiles
Edelweiss one-day veneers or traditional porcelain laminates to disguise chips, discolorations and other cosmetic defects
Can we help your family?
We'd love to be your dental care provider. Contact Ambiance Dental Spa in Bowie, MD to arrange your convenient appointment time. We're sure you'll find us well-suited to your needs.