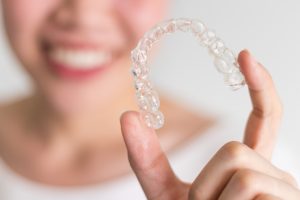 Invisalign is the clear choice for a straight smile. Clear aligners are discreet, convenient, and comfortable because there aren't any brackets or wires. You'll enjoy several freedoms with aligners, especially while traveling. You won't have to worry about missing adjustment appointments, skipping your favorite foods, or having anxieties about your smile. Whether for business or leisure, here are 5 tips you should know about traveling with Invisalign before hitting the road.
1. Pack the Essentials
Your oral hygiene routine is vital during Invisalign treatment. Skipping brushing, flossing, or cleaning your aligners for only a few days can complicate your treatment. You can ensure nothing compromises your new smile by packing the essentials:
Toothbrush: A soft-bristled travel-sized toothbrush will make it easy to brush your teeth after every meal.
Floss: Carry floss with you, so you can commit to flossing, even in between flights.
Mouthwash: Bring a travel-sized mouthwash to neutralize anything bacteria left behind by your toothbrush and floss.
Extra Aligners: Accidents happen. Bring extra aligners with you in case one breaks or is misplaced.
Storage Case: Avoid losing your aligners and keep them clean when they aren't in your mouth by placing them in their storage case.
2. Follow Your Routine
It's easy to deviate from your daily routines when you're not at home, but try to stick to your oral hygiene habits. Take time to brush, floss, and clean your aligners. You'll keep your teeth and gums healthy while ensuring your aligners stay transparent.
3. Stay Hydrated
It's important to stay hydrated to keep your mouth moist to reduce bacteria growth. Water will help keep your mouth clean in between brushing and flossing. If you will be leaving the country, check the safety of the area's public water source. If you shouldn't be drinking it, don't use it when brushing, either.
4. Visit Your Dentist
If you will be away from home for an extended time, schedule an appointment with your dentist before you leave. They'll check the progression of your treatment plans and ensure your smile is healthy, so there aren't any unexpected complications while you're on vacation.
5. Commit to Your Treatment
It's important to continue wearing your aligners for at least 22 hours per day. Don't forget to switch to the next aligner in the series on time. Setting a reminder on your phone can ensure there aren't any delays in your journey to a straight smile.
Safeguard Your Smile
Invisalign involves a lot of time and commitment. Don't let your travel plans leave a lasting mark on your new smile. With a little preparation, you can safeguard your smile.
About Dr. Clarine Green Hightower
Dr. Hightower earned her dental degree from Howard University College of Dentistry. She has worked in various dental settings, providing services for all ages, including children. She has regularly continued her education in advanced treatments, like Invisalign and veneers. If you are ready to improve your smile, contact our office today to request your consultation.