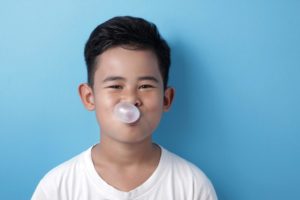 Do you keep a pack of gum in every room in your home? Is it difficult to walk past a cash register without buying a pack of Trident of Orbit? Even though you may feel guilty about it because it feels like a satisfying sweet, you're actually doing your oral health a favor and saving money on dental treatments. Paired with a dental cleaning in Bowie every six months, chewing gum daily can reduce your risk of developing oral health problems… just make sure you're buying the right brand of gum!
What Causes Cavities?
Each time you eat a snack or meal, chewed food debris combines with your saliva and harmful oral bacteria to form a film called plaque. It's sticky and easily attaches to nooks and crannies of your mouth. Plaque also plays a vital role in the formation of common oral health problems such as cavities. When the bacteria in your plaque feed off of the sugars and carbohydrates found in food debris (also located in the biofilm), they produce waste in the form of enamel-eroding acids. When the plaque isn't regularly brushed or flossed away, it causes cavities to form and puts your teeth at risk of developing infections and uncomfortable side-effects such as dental sensitivity.
Can Gum Clean Your Teeth?
According to the Oral Health Foundation, you can help remove plaque and neutralize acids produced by harmful oral bacteria in your mouth by regularly chewing gum. Unlike sweets, certain brands of chewing gums are made from tooth-benefitting ingredients. The act of chewing it also stimulates saliva production, which helps clear away food debris, strengthen your teeth, and reduce the amount of acid in your mouth. In short, if you don't regularly chew gum, maybe it's a habit that wouldn't be so bad to pick up!
What Type of Chewing Gum is Good For Your Teeth?
If you regularly chew gum, it's important to purchase the brands that contain ingredients that benefit your teeth and gums, not harm them. The next time you pick up a pack at the cash register, look at the ingredients to make sure that it's sugar-free and contains Xylitol. Sugar helps feed bacteria in your mouth, allowing them to produce more enamel-eroding acid, which you'll want to avoid. Xylitol is a naturally occurring sweetener that has been shown to ward off cavity-causing bacteria found in your mouth. Unlike sugar, bacteria can't use this ingredient for fuel, making your mouth safer and healthier.
Chewing gum is just one of many preventive measures you can take to make your teeth healthier than ever. To find out other ways you can preserve your smile, be sure to ask your dentist in Bowie for tips and recommendations at your next checkup and cleaning!
About the Author
Dr. Clarine Hightower has completed an advanced general residency, where she worked in several practices and gained years of experience providing patients with high-quality and thorough dental care. She regularly takes continuing education courses in a variety of dental treatments and procedures, so her patients feel confident and comfortable getting the best dental care available. For questions or to schedule a checkup and cleaning, visit Ambiance Dental Spa's website or call 301-262-2624.