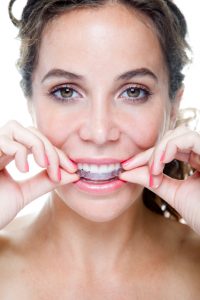 Straightening your teeth has never been easier or more discreet than with Invisalign, but what is involved in Invisalign treatment and how hard is it to care for your Invisalign aligners? Your premiere dental team at Ambiance Dental Spa has all the information you need about caring for Bowie Invisalign braces.
What is Invisalign?
Instead of using traditional metal brackets, Invisalign utilizes clear plastic trays known as aligners that apply gentle pressure to gradually shift your teeth. Your aligners should be worn 20-22 hours per day and changed every two weeks. Most Invisalign cases can be completed in 12-18 months, and the result is a beautifully aligned smile that you will be proud of!
Caring For Invisalign
One of the benefits of Invisalign is that it's a very simple system for patients to use. Your aligners can be removed for eating, brushing and flossing so your home care routine will not have to change, and there are no restrictions on your diet as there would be with traditional braces. You can rinse and brush your aligners daily to keep them fresh and clean, and every two weeks you'll receive a new set. Because Invisalign is so simple to use, patients who are compliant about wearing their aligners achieve amazing results with a minimal amount of treatment time.
What are the Benefits of Invisalign?
The biggest benefit that Invisalign offers is the fact that the aligners are made of clear plastic, which makes them virtually invisible so no one will ever know that you're straightening your teeth. Smiling, talking and interacting with others is easy and discreet with Invisalign.
If you've considered straightening your teeth, but you were put off by the thought of wearing bulky metal braces, maybe it's time to reconsider and learn more about what Invisalign has to offer. Dr. Clarine Green Hightower and Dr. Yumna Valiulla are Invisalign providers and they can help determine if Invisalign in Bowie would be right for your needs. You can even see what your newly aligned smile will look like before treatment starts with our Invisalign's 3D technology.
At Ambiance Dental Spa our doctors specialize in helping patients achieve the smiles they've always dreamed of. Whether it may be straightening your teeth with Invisalign, or amping up your smile with porcelain veneers our team has the skills and knowledge to meet your needs. The first place to start is a consultation with Dr. Hightower or Dr. Valiulla to create a plan that will fit your goals, lifestyle and budget. A beautiful smile is just a phone call away. Contact our office to schedule your appointment.