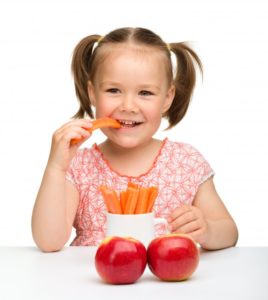 Brushing and flossing are essential for oral health, but choosing the right diet can also do wonders for a person's smile. As a parent, it's part of your responsibility to make sure your little ones consume snacks that are good for their whole body — including their teeth. What types of foods will make your child's smile bright and healthy, and which foods should you skip the next time you go grocery shopping? Your children's dentist is here to give you some guidance.
Foods for a Healthy Smile
Calcium should always be a consideration when you're choosing your child's snacks. This mineral is one of the main components of teeth, and children needs lots of it in order to thrive. Snacks that are rich in calcium can fortify teeth and promote overall health in young bodies. Yogurt (that doesn't have a ton of sugar), milk, and cheese are all good choices.
Also, be sure to include lots of fruits and veggies in your child's lunchbox. Foods with a bunch of fiber in them, like celery and carrots, have a crunchy texture that requires a lot of chewing. The chewing encourages saliva production, and saliva works to vanquish harmful bacteria from the mouth. If your kid balks at vegetables, you might make them more appealing by offering a yummy dip.
Here are a few other foods that can be great for your child's smile:
Almonds
Apples
Leafy greens
Cranberries
Foods that are high in vitamin C (just don't give your kids too much citrus because the acid can be damaging to teeth)
Foods and Snacks to Avoid
There are tons of healthy choices out there that promote strong teeth and gums, but there are also lots of foods that you should limit your children's consumption of. Primary among them are foods that are loaded with sugar. Artificial fruit snacks, candies, and even high-sugar yogurt all pose a threat to that precious little smile. This is because sugar interacts with the bacteria in your child's mouth, leading to plaque and cavities.
You should also be cautious about acidic foods, such as citrus fruits. That isn't to say that your child can't enjoy a juicy orange — but they should rinse their mouth with water or have a glass of milk with the fruit. Keep in mind as well that soda, even the kind without sugar, is highly acidic and can damage teeth.
Starchy foods, such as potato chips, also pose a threat because they can get stuck between teeth, prolonging the time that the teeth are exposed to the food.
Healthy teeth are part of a healthy body, so be sure to consider your child's smile the next time you're putting together a snack menu.
About Ambiance Dental Spa
Drs. Clarine Green Hightower and Yumna Valiulla are proud to provide for the oral healthcare needs of patients of all ages in Bowie. If it's time for your child's net checkup, or you just have questions about how to choose foods that are good for young smiles, you can contact our office at 301-262-2624.