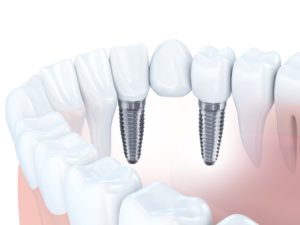 Tooth loss remains a common problem despite several advancements in dentistry. In fact, 120 million Americans are missing at least one tooth. 15 million people in the U.S. have chosen a fixed bridge to fill the space of 1 to 3 consecutive missing teeth because it is affordable and convenient. Unfortunately, they only last for about 5 years. When your bridge starts to fail, you could choose to have it replaced, or you can enjoy the next best thing to your real teeth with dental implants in Bowie. You can invest in your smile using a solution that can last for several decades.

Fixed Bridge vs. Dental Implants
A fixed bridge is the most traditional treatment to replace 1 to 3 missing teeth in a row. Your dentist in Bowie takes an impression of your mouth to create prosthetic teeth that are designed to match the appearance of your natural ones. The bridge is held in place by reshaping your adjacent teeth to allow dental crowns to be bonded to them.
This is an affordable solution; however, it does require you to permanently alter your teeth. Not to mention, the bridge only lasts for a few years before needing to be replaced. It is not uncommon for the crowned teeth to suffer from strain, which could lead to them needing to be extracted in the future.
An implant-supported bridge resolves the disadvantages of the traditional method. Instead of placing crowns on the adjacent teeth, 1 or 2 implant posts are surgically placed into your jawbone to anchor your bridge in place. There is no need to alter healthy teeth.
The implant posts act as new tooth roots, stimulating your jawbone to preserve your remaining teeth. Overall, they enhance the density of your jawbone to improve your oral health and protect your facial structures.
Benefits of Dental Implants
An implant-supported bridge offers a diversity of benefits that are not possible using the traditional method, including:
Over a 95% 10-year success rate.
Looks and feels natural.
Restores as much as 70% of your biting force.
Stops dental drift.
Reduces your risk of tooth decay, gum disease, and additional tooth loss.
Doesn't alter healthy teeth.
Preserve the density of your jawbone.
Protects your facial structures,
Cost-effective, long-term solution.
Potential to last for decades.
Invest in Your Smile
If your bridge is failing, choose an option more than 500,000 people each year turn to. Enjoy the security of dental implants today for the next best thing to your real teeth.
About Dr. Clarine Green Hightower
Dr. Clarine Green Hightower provides advanced dental services to meet her patients' needs through all stages of life. She offers the latest treatments to replace missing teeth, including dental implants. No matter if you are missing one tooth, several teeth, or an entire arch, she can complete your smile. If you are interested in dental implants, contact Ambiance Dental Spa today to schedule your consultation.