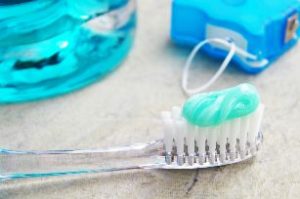 If you've ever wondered if brushing and flossing really makes a difference, check out this statistic: People with good oral hygiene have an estimated 1,000 to 100,000 bacteria on each tooth. People without good hygiene have between 100 million and 1 billion bacteria on every tooth. That's a big difference!
As any dentist in Bowie, MD will tell you, these bacteria are responsible for cavities, bad breath and gum disease, so patients with good habits need a lot less dental work than those who don't! In this blog, we'll focus on the best way to brush and floss so you can be as effective as possible. Keep reading to learn more!
What Is the Best Way To Brush Your Teeth?
First, we'll describe the main differences between an electric brush and a manual, as this is a common question. An electric brush stays on for two minutes and provides between 6,000 and 30,000 brush strokes a minute. These two features alone make them very effective!
Some people do great with a manual brush, so for them, using an electric is a matter of preference. But dentists recommend an electric brush for anyone who struggles with a manual because it can help tremendously!
Now for tips on your technique:
Using a soft-bristled brush, place your bristles at a 45-degree angle to your gumline.
Make sure to use light pressure. Some electric models will give you feedback if you're being too heavy-handed. If you're using a manual, you'll have to pay close attention and make a conscious effort to brush lightly to avoid damaging your gum tissue.
Using circular strokes, gently scrub the front and back surfaces of all the teeth, working on 1-2 teeth at a time. Since your brush is angled, you'll automatically be cleaning the gumline.
Then be sure to directly brush all the chewing surfaces – and don't forget about your tongue, as it harbors a lot of bacteria!
Brush for two minutes and you're done!
What's the Best Flossing Technique?
Try to choose floss that's either waxed or woven. Textured floss will remove much more plaque than the super-smooth kind!
Then use this method:
Start with about 18 inches of floss.
Wrap one end around the index finger of your non-dominant hand. Then you'll only be working with your two index fingers and thumbs.
Using about 1 inch of floss, use a back-and-forth "seesaw" motion to get the floss past the contact point (where the teeth touch). This way, you avoid snapping the floss into your gums, which can hurt.
Once you've gotten past the contact, stop using the back-and-forth motion. Wrap the floss under the gumline so that it makes a C shape and gently moving the floss up and down.
Move to a clean piece of floss for each pair of teeth.
Remember – don't hesitate to ask your dentist for feedback at your next checkup, as a visual demonstration is always helpful.
With great brushing and flossing, you'll have better oral health, a more beautiful smile and won't need as much dental work. And that's something to smile about!
About the Author
Dr. Clarine Green Hightower understands the power of prevention. She always takes the time to educate her patients about the best way to brush and floss because she knows that good hygiene habits can prevent the need for extensive dental work. If you have any questions, she can be contacted through her website or at (301) 262-2624.