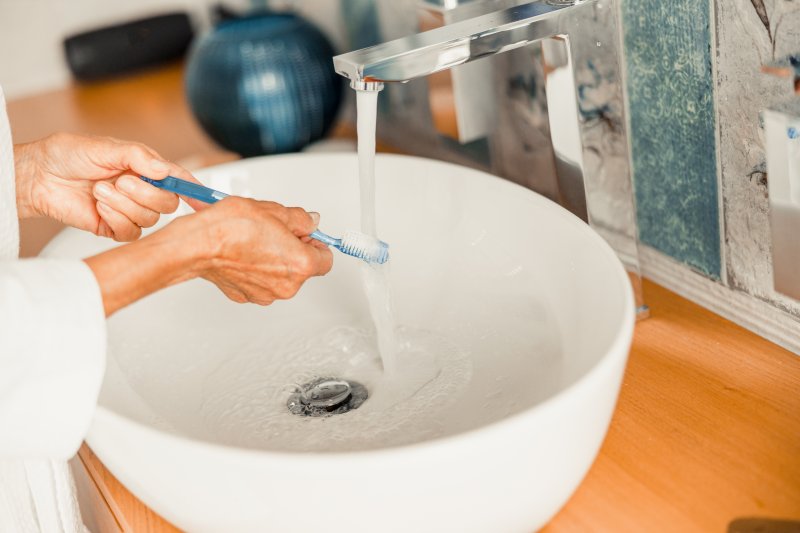 Ideally, you should be replacing your toothbrush every three to four months – sooner if the bristles become worn-down or splayed. Although regularly swapping out your bristles is crucial to get the most out of your brushing sessions, keeping it clean in between replacements is just as important. After all, you use it to scrub plaque and bacteria off your teeth and tongue. That means your toothbrush now carries all the germs and residue from your mouth! Read on to learn how to clean your toothbrush and what steps you can take to keep it safe in between uses.
How Do You Clean a Toothbrush?
There are several tried-and-true ways of cleaning your toothbrush, including:
Run Hot Water Over It
Running hot water over the bristles before and after brushing is one of the most common ways of sanitizing a toothbrush. The simple technique eliminates any bacteria that accumulated on the toothbrush in between uses and after each use. Usually, this method is enough to keep the bristles safe and clean. Just make sure the water is hot enough to produce steam!
Soak It in Antibacterial Mouthwash
If you want to take it a step further, soak your toothbrush in an antibacterial mouthwash. To use this approach, submerge the bristles in a small cup of mouthwash for about two minutes after each use. However, doing this technique too often can quickly wear out your toothbrush, so be careful!
Use Denture Cleanser
Sounds odd, right? Well, denture cleanser is made of antimicrobial ingredients that target bacteria and plaque in your mouth. That means it's also effective at disinfecting toothbrushes! If you want to try it out, dissolve half a cleansing tablet in a cup of water and submerge your toothbrush for 90 seconds. Don't forget to throw out the denture cleanser immediately after using it – you don't want to reuse it on your dentures!
Consider Getting a UV Toothbrush Sanitizer
Even though a UV toothbrush sanitizer isn't necessary for safe brushing, it can certainly help keep your toothbrush sterilized. One study found that UV light is an effective way to disinfect bristles, so it doesn't hurt to try it out if you're interested!
Tips to Keep Your Toothbrush Clean
Here are some ways you can keep your toothbrush clean in between replacements:
Store your toothbrush in a hydrogen peroxide solution that's changed daily to keep bacterial growth to a minimum.
Avoid storing multiple toothbrushes together to prevent cross-contamination among the bristles.
Keep your toothbrush as far away from the toilet as possible! Every time you flush, fecal matter rises into the air and spreads bacteria all over your bathroom.
Store your toothbrush in an open container or holder after brushing your teeth and allow it to air dry. Otherwise, keeping it in a closed container can lead to more bacteria growth on the bristles.
As you can see, keeping your toothbrush clean is an essential part of your oral hygiene routine. By following the tips outlined above, you can ensure you're getting the most out of every brushing session!
About the Practice
At Ambiance Dental Spa, we offer exceptional, personalized, and compassionate dental care in a spa-like environment. Our goal is to make every dental visit as satisfying and comfortable as possible. We are also passionate about educating our patients to help them make informed and confident choices about their oral health. If you have any questions on how to clean your toothbrush, we're more than happy to answer them for you. Visit our website or call (301) 262-2624 to schedule an appointment.