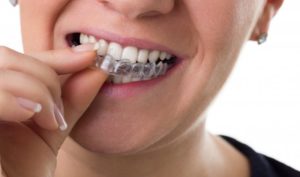 You're a budget-conscious person. You're always comparing prices, looking for good deals, and using clever little hacks to save a few dollars here and there. Thriftiness is a great quality, and we applaud you for your money management skills. But we hope your talent for saving money doesn't go too far — it should never cause you to sacrifice what's best for your oral health. Admittedly, Invisalign in Bowie isn't a low-dollar investment, but we can assure you that it is worth every penny. Let's talk about some of the priceless benefits this treatment can deliver.
A Healthier Mouth
Many people don't realize that crooked teeth and a misaligned bite can have serious oral health consequences. These issues can:
Make it more difficult to clean between the teeth, increasing your risk of cavities and bad breath
Cause premature wear and tear on your teeth
Lead to painful problems with the TMJ (the joint that connects your lower jaw to the rest of your skull)
Invisalign gradually moves your teeth into their proper places, preventing and solving oral health problems that you might not even have been aware of.
A Discreet Appearance
In your efforts to save money, you might be leaning toward traditional metal braces rather than Invisalign from your cosmetic dentist in Bowie. However, regular braces are undeniably unattractive. All of those brackets and wires may make you feel like you've gone back to your awkward teenage years, and they may make it more difficult for your fellow professionals to take you seriously.
Invisalign, on the other hand, uses clear thermoplastic aligners to reposition your teeth. The aligners aren't altogether invisible, but they are much more discreet than their old-fashioned counterparts.
No Dietary Restrictions
Regular braces come with a laundry list of things you shouldn't eat and drink. It's too easy for things like popcorn and sticky treats to get stuck in all the metal chaos in your mouth. Other foods, like apples, may be more difficult to eat because you have to be careful not to break any of the braces' wires.
Invisalign aligners are removable. When it's time for you to eat, all you have to do is take out your aligner, enjoy your meal, rinse the aligner, and replace it in your mouth. You'll never have to say no to your favorite goodies.
Convenience
With traditional braces, it can take up to half an hour each night to properly clean your teeth. You'll have to navigate around all those brackets and wires, which can be a bit of a hassle. The removable nature of Invisalign makes caring for your oral hygiene a breeze. You just have to take out the aligner, brush and floss according to your normal routine, clean the aligner, and voila! You're done.
Invisalign costs a bit more than traditional braces, but we believe the benefits are worth it! If you would like straighter teeth, your dentist would be happy to talk to you about Invisalign.
About Us
At Ambiance Dental Spa, we're proud to offer Invisalign and many other treatments that are designed to enhance your smile's health and beauty. If you want to talk about obtaining straighter teeth, please contact us at 301-262-2624.