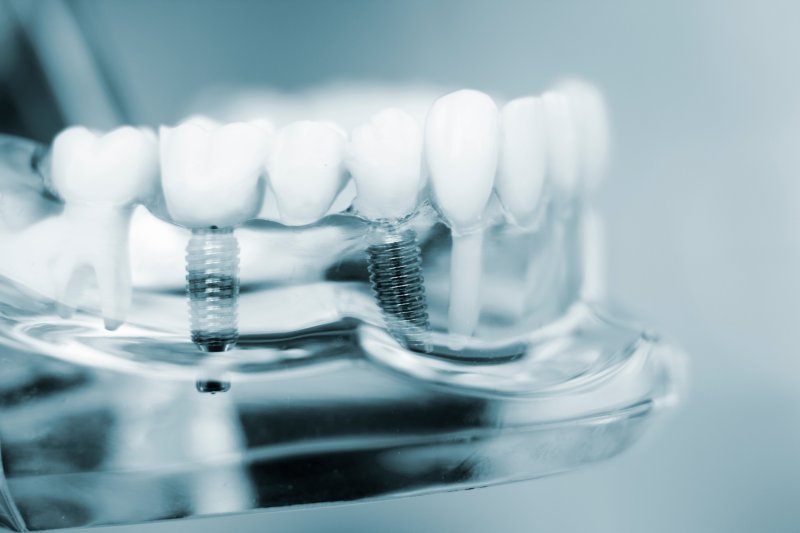 If you have missing teeth, you've at least considered dental implants. These tooth replacements can fill your smile and restore your lost chewing ability! That said, you may not know just how many implants you need. After all, different procedures involve different numbers of them. Some only place one implant, while others might place several at once! Fortunately, your Bowie dentist can help give you an idea of things. Read on to learn the factors that shape your ideal implant number and possible treatment solutions.
Your Dental Implant Number? It Depends
Every smile is unique, even when they have missing teeth. Therefore, your dentist must see your own to know how many implants you need. In particular, they'll weigh the following factors:
The Amount of Bone in Your Jaws
How many implants your body can handle will depend on the bone in your jaws. When you have plenty, your dentist could place just a few long ones. If the bone is limited, though, they may need to place more and shorter implants. The latter case would increase the procedure cost due to several fees.
Teeth Grinding (or Lack Thereof)
If you have strong muscles in your jaw and grind your teeth, you may need more implants to reduce the chances of breaking anything. An older patient who doesn't grin their teeth, meanwhile, would require fewer tooth replacements.
Whether You Want Fixed or Removable Treatment
Your implant number will also be influenced by whether you want your prosthetics to be removable or fixed.
A patient who wanted a removable option, for instance, could have as few as two implants. They could attach to an appliance and thus snap in and out easily.
On the other hand, a multi-implant fixed appliance would have anywhere between four and eight.
Implant Solutions to Consider
Based on how your dentist assesses the items above, they could recommend various possible treatments. (Or combinations of said treatments.) Most likely, though, they'll suggest one of the three below:
Single-Implant Crowns: These are stand-alone implants that dentists place at once. They fit between already-existing teeth and are best when you only need one or two replacements.
Implant-Retained Bridges: Implant-retained bridges have two implants that attach on either side of several dental crowns. They work best for three or more missing teeth.
Implant-Supported Dentures: Like implant bridges, these dentures are supported by implants. However, they differ by including an acrylic gum replacement.
As you can see, the number of implants you need can vary. To ensure you get proper treatment, talk to your dentist to find the one right for you.
About the Practice
Ambiance Dental Spa is based in Bowie, MD. As led (and owned) by Dr. Clarine Hightower, the practice emphasizes care that's both high-quality and budget-friendly. To that end, its staff offers great preventive, cosmetic, and restorative dentistry, as well as emergency dental treatments. The team is also a certified provider of Invisalign clear braces and dental sedation. For more information or to book an appointment, they can be reached at their website or by phone at (804)-288-5324.