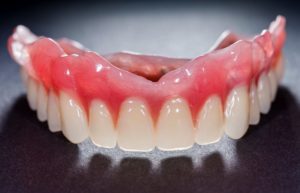 So, you've just gotten your brand-new dentures made. You can smile again and eat a ton of foods you weren't able to before. While your dentures in Bowie will last a long time before needing a refitting or replacement, you can extend their life by taking the right steps in proper denture care. These steps are simple, so you just need to stay diligent and do them every day.
Making these steps part of your daily routine will make your dentures last for years longer! Here's how you can get started.
Handling Your Dentures with Care
When holding and cleaning your dentures, always do so over the sink. To prevent them from being damaged by accidental droppings, keep a folded towel in the sink. You can also fill the sink with water which can help break the fall.
Brush and Rinse Your Dentures Daily
After many hours of use, you'll notice food debris and plaque buildup on the teeth and gum portions. This requires thorough rinsing and brushing with a proper denture brush to remove. Make sure you buy a soft-bristled toothbrush designed to clean dentures.
Avoid using toothpaste at all costs when cleaning your dentures. The abrasive chemicals in toothpaste is good for natural teeth but damaging to material used in dentures. It can cause tiny scratches that easily trap plaque and food debris. You'll want to clean your dentures throughout the day, especially after eating.
Instead of using toothpaste, purchase a denture cleaner, hand soap, or mild dishwashing liquid. You can also purchase ultrasonic cleaning devices specifically for dentures. This makes the removal of plaque and debris easier but should not replace daily brushing.
How to Care for Dentures When Not in Use
When you remove your dentures, such as before bed, you'll need to keep them moist. Let your them soak in a glass of water or denture cleanser any time they aren't in use. Never use warm or hot water as this can permanently warp them.
Be Sure to Clean Your Mouth
Your gums, tongue, and palate can still collect plaque, so make sure to use a fluoridated toothpaste to brush your mouth before placing your dentures back in. A great way to thoroughly clean your gums is to gargle warm saltwater daily.
Visit Your Dentist Every Six Months
When you visit your dentist in Bowie, she'll make sure that your dentures continue to fit properly. She'll also clean your teeth and check for any signs of oral cancer. If you notice that your denture is damaged in any way, don't try to fix it yourself. When dentures are brand-new, they need to be worn and removed multiple times before feeling comfortable.
With these simple steps in mind, your dentures in Bowie can last between five and seven years. Schedule an appointment with your dentist today to learn more!
About the Author
Dr. Clarine Green Hightower earned her dental degree from the Howard University College of Dentistry. Whether you're replacing a handful of teeth or an entire arch, she has you covered. To learn more about her practice or implant-retained dentures, contact her at (301) 262-2624 or visit her website.