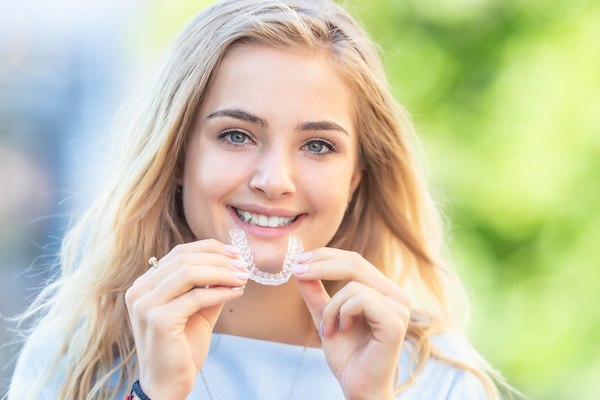 Invisalign is a great choice for people who are interested in having their teeth straightened but are looking for an alternative to visible braces. The clear aligner system uses a series of trays to gradually shift the teeth into their optimal position. If you have been considering this treatment but are wondering about the details, keep reading to find the answers to some of the most common Invisalign questions!
How does the Invisalign treatment work?
Your dentist will set you up with a series of clear plastic aligners that will fit securely around your teeth at each stage of the treatment. You should wear the aligners for 20-22 hours daily, removing them only to eat, drink anything other than water, and to brush and floss your teeth. You'll be asked to visit your dentist monthly – or more or less often if recommended – for progress checks, and you can look forward to a brand new smile in 12-18 months, on average. 
Is Invisalign really invisible?
The Invisalign aligners are made of clear plastic and fit closely to the teeth. While someone who knows you are going through the treatment may be able to detect them, they are very subtle – it is quite possible that many of the people you interact with on a day-to-day basis may never notice you are straightening your teeth.
Do the aligners stain?
It is possible for the Invisalign trays to absorb colors from foods or beverages that they come into contact with, which is why it is very important for you to remove them before eating or drinking anything at all. You should also avoid smoking while wearing the aligners.
Is Invisalign uncomfortable?
Most patients who undergo the Invisalign treatment report that the aligners are very comfortable, aside from the slight soreness that naturally occurs when they switch to a new tray. In fact, one of the most significant advantages of Invisalign compared to traditional metal braces is its improved comfort. 
Can Invisalign work for my smile?
Invisalign is a good option for some of the most common orthodontic issues, including slight gaps and crowded teeth, as well as overbite, underbite, and crossbite. However, more significant issues may require conventional braces. 
The best way to find out whether or not Invisalign is right for you is to discuss it with a dentist who offers the treatment. No matter which method you choose, it's always worth it to seek a solution for misaligned teeth – your future self will thank you for it!
Meet the Practice
At Ambiance Dental Spa, patients of all ages can rely on a team of dental professionals to provide high-quality treatments in a relaxing environment that uses state-of-the-art technology. From basic checkups to innovative approaches like Invisalign, you will find everything you need from Dr. Hightower and Dr. Kwakye. To learn more or to book an appointment, visit their website or contact their office directly at (301) 262-2624.