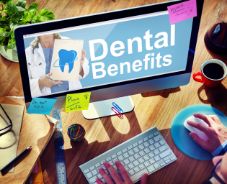 Around 1 in 4 Americans don't have dental insurance, which can make it very difficult to get the dental care they need. Unfortunately, however, even insured people often miss out on the benefits of their plan because they don't have the information they need to take advantage of it. If you think you may fall into this category, you've come to the right place! Keep reading to learn why using your dental insurance is so important for your oral health (and wallet), and how the first step is seeing a dentist before it expires.
Want Better Oral Health? How Dental Insurance Helps
While medical insurance is usually geared towards treating illnesses and accidents after they've occurred, dental insurance aims to prevent problems before they start. That's why insurance companies usually cover dental checkups and cleanings at 100%. They know that people who get these services typically need much less dental work overall. That not only saves you money (especially since these visits are essentially free), but also the time and discomfort from treating major dental problems down the road.
Sadly, there are over 2 million dental emergencies treated in hospitals each year, most of which are from uninsured patients who aren't getting preventive checkups and cleanings. By using your insurance plan the way it's designed, you can greatly minimize the chance of emergencies and other issues.
What Does Dental Insurance Cover?
While each dental insurance plan is different, here's how common services are usually covered:
Preventive care – Checkups, cleanings, and routine X-rays are usually covered at 100%. Many plans cover 1-2 checkups and cleanings a year. Some plans even cover sealants and fluoride treatments, so be sure to check.
Basic services – Basic dental work such as a dental filling is usually covered at 80%.
Major services – Major dental work includes things like crowns, root canals, and dentures, which are often covered at 50%.
Getting the Most From Your Dental Insurance
First and foremost, start by finding out when your plan begins and ends (most end on December 31st). Then call and schedule either a checkup and cleaning or any unfinished treatment. There's a common myth that your benefits roll over, but the truth is that whatever isn't used is automatically lost. Since the average annual benefit is between $700 and $1,500 per person, that's a lot of money you could potentially miss out on by not scheduling early enough. Remember, when it comes to dental insurance, "use it or lose it."
It's also important to ask your dentist for help using your plan to your advantage. This could be as simple as scheduling treatment in phases to get two years' worth of benefits instead of one (for example, scheduling a root canal towards the end of 2019 and a dental crown at the beginning of 2020.)
With a little know-how, you can avoid losing hundreds in insurance benefits and also get the care you need for great oral health. After all, if you're lucky enough to have dental insurance, you may as well take advantage of it!
About the Author
Dr. Clarine Green Hightower is a family dentist with decades of experience and a graduate of Howard University College of Dentistry. To accommodate her patients' needs, her office is in-network with 9 leading insurance companies. She and her staff are always available to answer questions about dental insurance and can be reached via her website.