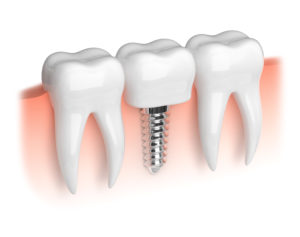 Dental implants in Bowie are known for having an extremely high success rate. However, it's not impossible for them to fail or come loose for one reason or another. It could happen if a patient doesn't take proper care of them or if they are a chronic smoker. It could also happen because of an injury.
Regardless of the reason, it's not something you can fix on your own, nor is it something you should be putting off. To start, you'll need to confirm if the implant is loose before visiting your dentist.
How to Determine If Your Implant is Loose
One of the most common causes of a loose dental implant is it never successfully integrated with the bone like it's supposed to. This occurs through a process known as osseointegration and allows the implant to become properly anchored.
Unlike natural teeth, dental implants shouldn't have any sort of give whatsoever. This is because they lack a periodontal ligament like natural teeth. Any movement in your dental implant indicates that a layer of soft tissue formed between the implant and existing bone, causing slight mobility. At this point, your dentist in Bowie will need to address it.
Why Seeing Your Dentist is Important
Complications around dental implants are not something a patient can address because only a dentist can treat them appropriately. For example, an implant may not integrate properly because the quality of the bone is too low or because a bone graft didn't take as well as it should have.
Furthermore, if an infection is affecting the success of the implant, your dentist will need to be the one to clean and remove any bacterial contamination around it. If you just suffered a dental injury to your dental implants in Bowie, you should already be calling your dentist as damage or complications surrounding a restoration are considered a dental emergency.
Unfortunately, dental implants can also fail even without any complications, even though it is extremely unlikely. You'll be glad you visited your dentist in Bowie as they'll know how to best handle your situation.
How Your Dentist Will Replace It
To start, your dentist will first remove the loose dental implant. After extraction, they'll clean the area and remove any dead, damaged, or infected tissue so it can heal more properly. Next, they'll place a bone graft into the area to ensure your existing bone doesn't recede further. By adding this additional bone, a future dental implant will have more success during integration.
Finally, the dentist will close the area and wait several months before deciding whether another dental implant can be placed. If enough bone has grown to support a dental implant, you can start scheduling a new dental implant treatment. If not, they'll conduct an additional bone grafting to ensure it integrates properly.
Have more questions about your dental implants in Bowie? Need a professional opinion? Schedule an appointment with your dentist to get the help you need!
About the Author
Dr. Clarine Green Hightower earned her undergraduate education from the West Indies Mona Campus before earning her dental degree from Howard University College of Dentistry. After your implants are placed, your dentist will provide you the dental restorations needed to complete your smile. To learn more about her dental implant treatments and practice, contact her at (301) 262-2624 or visit her website.