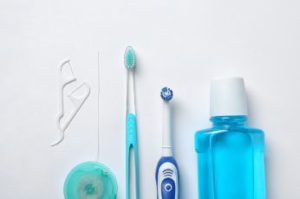 Any family dentist will tell you that the best way to minimize getting fillings, crowns, and other dental work is to establish good oral hygiene habits at home. Of course, it's also necessary to get professional cleanings, but since most people only get those twice a year, what you do the other 363 days of the year is just as important! Keep reading for 10 great tips that will make your oral hygiene routine efficient and effective – you'll be one step closer to having a healthy, beautiful smile (and staying out of the dental chair!)
1. Use a Tongue Scraper
It's easy to forget about your tongue, but since it harbors millions of bacteria that contribute to gum disease, cavities and bad breath, it's important to clean it every day. You can either use a tongue scraper or simply brush it thoroughly.
2. Make Flossing Easier
People struggle with flossing more than anything else, so anything you can do to make it easier is a good thing. First, aim for better, not perfect. You might be tempted to give up if you miss a day or two, but even just flossing 3-5 times a week will have huge benefits.
Also, if you find that you're too tired at bedtime, try flossing right after dinner (or even lunch) when you have more energy. Or, you could break up your routine by flossing your top teeth in the morning and your bottom teeth at night.
3. When You're On-the-Go, Swish With Water
You can't always brush after consuming a snack or sugary beverage, but swishing with water a few times will rinse away residual sugars and acids before they can damage your teeth.
4. Limit Snacking
It's not only the amount of sugar you consume that puts your teeth at risk, it's the frequency that counts as well. "Sip all day, get decay" is a good phrase to remember to help you avoid snacking or sipping throughout the day.
5. Chew Sugar-Free Gum
Another great strategy for convenient cavity-prevention is chewing sugar-free gum. It counteracts the effects of any food debris after meals and also freshens your breath.
6. Brush With Good Technique
Make sure to angle your bristles at 45-degrees towards the gumline and brush for at least 2 minutes with light, gentle pressure. Brush the front, back and chewing surfaces of all your teeth and don't hesitate to ask a dentist in Bowie for a demonstration at your next checkup.
7. Brush Frequently Enough
Many people brush just once per day (usually in the morning), but it's really important to brush at least twice. Your mouth gets dry when you sleep, and when you combine that with leftover food and plaque from the day, you're at high risk for getting cavities.
8. Use Mouthwash
Use a mouthwash to get into the nooks and crannies where you can't reach with a toothbrush and floss. There are antiseptic options for gum health, fluoride options for cavity prevention, and all-in-one options that…well, do it all.
9. Choose the Right Tools
Most people would benefit from an electric toothbrush, and there are several inexpensive models on the market to fit any budget. Some people (especially those with extensive crown work or bridges) also do well with oral irrigators, and you might consider interdental brushes or floss picks as well. Experiment to find what works best for you.
10. Don't Skip Checkups
And, as always, regular checkups and cleanings are crucial to monitor your teeth and gums and remove the hard deposits of tartar that you can't remove at home.
About the Author
Dr. Clarine Green Hightower is a family dentist in Bowie who has many years of experience with both general dentistry and children's dentistry. In that time, she's found that patients who have good oral hygiene need less dental work than patients who don't. That's why she's always happy to help people learn how to get the most from their hygiene routine. If you have any other questions about your oral hygiene, she can be contacted through her website or at (301) 262-2624.