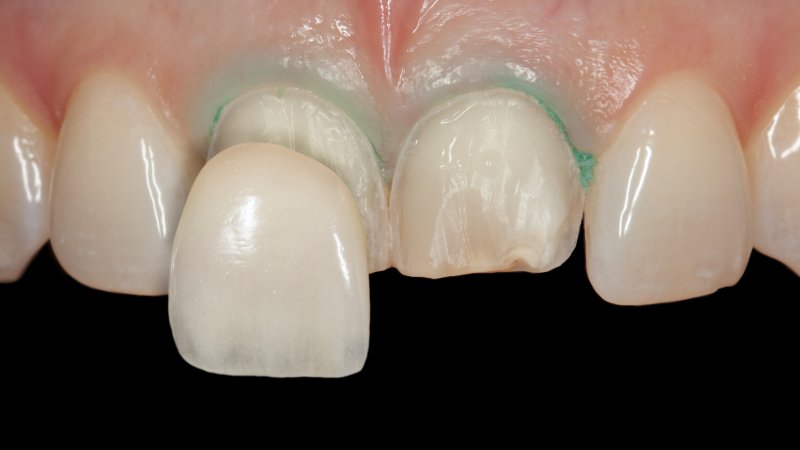 After talking with your cosmetic dentist about ways to transform your smile, you decide that veneers sound like an ideal option. Because of their versatility in being able to hide various flaws, you look forward to no longer seeing the stains, chips, and small cracks that greet you in the mirror each morning. But when it comes to the actual process of receiving these custom restorations, exactly how much tooth enamel is removed for veneers? Read on to learn just how little it is and why it's necessary to ensure successful results.
What is the Placement Process Like?
When receiving dental veneers, your cosmetic dentist must start by removing a small portion of tooth enamel from the surface of each tooth. Once this is finished, they will take impressions of your teeth so that lab technicians have an accurate model of your smile, making it easier to fabricate the custom restorations so that they fit comfortably and look completely natural.
Because it can take several weeks before the finalized ones are ready, you will wear temporary veneers in the meantime. But during your second appointment, the temporaries will be removed before having your permanent veneers put into place.
How Much Tooth Enamel Must Be Removed?
When learning that your teeth must be altered to receive veneers, you may wonder if it's worth it. After all, how much of this outer layer needs to be removed?
The answer is that it is minimal. Only half a millimeter is shaved off the surface of each tooth. There is no need to remove more than that, as keeping your natural tooth enamel in place for as long as possible is crucial to the longevity and health of your smile.
You should know, however, that since tooth enamel must be removed, this cosmetic solution – veneers – is deemed permanent, which means you will need to seek replacements over time to avoid an unsightly smile or vulnerable teeth.
Why Is This Removal Process Necessary?
It may not make sense to remove a portion of tooth enamel, but there is a very good reason behind it. When your dentist prepares your teeth for veneers, the removal of this outer layer makes it possible for the restoration to properly adhere to your tooth.
By etching the surface and taking away a small bit of enamel, it makes it possible for your veneer to lay flat. Otherwise, it might look bulky, which can be a clear indicator that your teeth are not real.
When choosing to give your smile the boost it needs, you cannot go wrong with dental veneers. While they do require upkeep and replacement over time, you will not regret your decision when you look in the mirror each day.
About the Author
Dr. Clarine Green Hightower attended Howard University College of Dentistry before completing an Advanced General Residency. She and the team at Ambiance Dental Spa know what it takes to transform appearances. When a patient expresses interest in veneers, we thoroughly explain the process before getting started. If you want to learn more about how we go about placing these restorations and why regular replacement is necessary, contact us at (301) 262-2624.