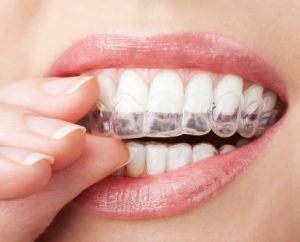 In the early days of dentistry, all orthodontic work was considered unnecessary, cosmetic care. Through years of research and experience, dental professionals finally realized that misaligned teeth actually present numerous oral health concerns including increased risk for TMJ dysfunction, tooth chips and cracks due to uneven pressure, and tooth decay. It's clear to most dental practitioners that correcting misaligned teeth is more than just a cosmetic fix, but it's no secret that smiles are one of the first things people see when they look at us. Correcting crooked, gapped, or misaligned teeth originally involved metal brackets and wires, but in recent years, cosmetic options have become available. One of the most popular options, Invisalign, is available from your Bowie, MD dentist at Ambiance Dental Spa.

Benefits of Invisalign
One of the benefits of Invisalign is clear, literally. Made from clear plastic, the Invisalign alignment trays are conspicuous, and allow patients to look great as they straighten their smiles. Some of the other benefits of treatment with Invisalign clear braces include:
Fast – unlike the two plus years needed for traditional orthodontic alignment, Invisalign treatment is typically completed within a year, requires fewer dental appointments, and takes less time to maintain.
Effective – as Invisalign researchers continue to improve the techniques and technology, more orthodontic concerns than ever before are treatable with Invisalign. Even many severe over, under, or crossbite cases are now treatable with Invisalign.
Less hassle – no changes to diet or hygiene required. Simply remove alignment trays to enjoy your favorite foods or continue your regular hygiene routine.
Pain free – traditional braces wearers experience discomfort due to the tightening of the wires and rubbing of brackets and wires against soft tissue. The gentle pressure from Invisalign and smooth plastic trays alleviate the majority of these discomforts.
Perfect at any age – Invisalign is a great orthodontic option for patients of any age from teens to seniors.
Not as pricey as you think – many patients are concerned about paying for their Invisalign treatment or worried that their insurance won't cover this treatment. The truth is very few insurance companies refuse to cover Invisalign. In most cases, if you have orthodontic coverage in your benefits, Invisalign is included. Ask our team about financing options for Invisalign.
Find out More
Interested in straightening out your smile? Don't wait another day. Contact Ambiance Dental Spa. We offer cosmetic alternatives to traditional braces in a relaxing, spa environment.