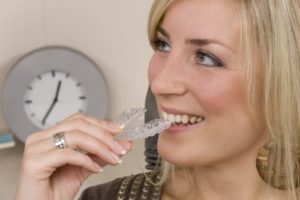 Do you always keep your mouth closed when the cameras come out because you're embarrassed by your crooked teeth? It might be time for you to visit your local orthodontic specialist so you can investigate options for straightening out your pearly whites. If you don't want to deal with the hassle of traditional metal braces, Invisalign in Bowie could be the solution you're looking for. But how long does Invisalign take to do its job? Here are all the basics you need to know about this treatment.
What Is Invisalign?
Simply put, Invisalign uses clear, removable, custom-made braces that gently reposition your teeth over time. They offer several advantages over traditional metal braces, including:
They are invisible — no one will tease you about being a "metal mouth."
You remove them while you eat, so you won't have to worry about dietary restrictions.
You'll be able to brush and floss as usual.
There are no metal brackets to irritate your mouth.
How Does Invisalign Work?
When you visit your dental care provider, they will first determine if you are a good candidate for Invisalign. Generally, if you are a teenager or an adult who does not have severe orthodontic issues, you will be considered a good candidate.
You should also do research on Invisalign so you know what lifestyle changes to expect. These are usually pretty minor, but they're worth taking into account before you make a firm decision on whether clear braces are a good option for you.
Your Invisalign provider will map out your treatment — you'll even get to see a digital representation of what your brand new smile will look like once your clear braces in Bowie are done working their magic. You'll later receive a series of aligners that will use gentle force to move your teeth to their proper places.
For the best results, you should keep your aligners in your mouth for between 20 and 22 hours each day. This will allow them the time they need to do their job. Most patients switch to a new aligner every two weeks or so. You'll also need to visit your Invisalign provider every four to six weeks so you can be sure your treatment stays on track.
How Long Does Invisalign Take?
How long Invisalign takes varies from person to person. For adults, the average time is about a year. It might take longer for teenagers. However, you may begin to see results much sooner than that — perhaps within the first two or three months if you are diligent about keeping your aligners in. It might be fun to take photos along the way so you can watch your smile as it slowly progresses toward its full potential.
Are you ready to become the proud owner of a straighter, more attractive smile? Invisalign may be right for you.
About the Author
Doctors Hightower and Valiulla are your friendly care providers at Ambiance Dental Spa. They love to work with people in their community to help them achieve their best smiles possible. If you would like to learn more about Invisalign, contact the office at 301-262-2624.