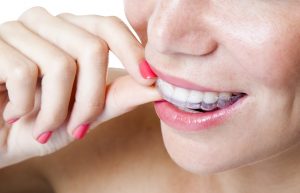 Invisalign clear braces in Bowie are a remarkably effective and discreet orthodontic system. It's specifically designed to straighten teeth without the dietary restrictions, oral discomforts or obvious appearance of conventional ceramic or metal braces. These biocompatible acrylic aligners move teeth into healthier and more attractive positions quicker than traditional orthodontics, and they are so easy to maintain. Learn all about them, and their care, from Dr. Clarine Green Hightower and Dr. Yumna Valiulla.
What Can Invisalign in Bowie Correct?
Invisalign braces treat mild to moderate orthodontic problems such as tooth rotation, tooth tipping, crossbite, underbite, overbite, overjet, open bite, gaps and more.  Dr. Hightower or Dr. Valiulla carefully evaluates each Invisalign candidate with a complete oral examination, digital X-rays, and three-dimensional imaging. Then, she formulates a treatment plan and sends the information to a special Invisalign lab that custom-makes the aligners.
Taking Care of Your Invisalign Appliances
During the average treatment time of nine to 18 months, Invisalign patients wear a series of custom-made aligners which resemble professional teeth whitening trays. They wear the appliances for 20 to 22 hours per day in order to keep treatment progressing.
Every two weeks or so, patients trade out their current aligner pair for a new one which advances tooth movement according to the treatment plan. They visit Ambiance Dental Spa every four to six weeks for simple progress checks, but no complex or time-consuming adjustments are necessary.
Plus, wearers have the ability to remove their aligners for meals and special occasions such as weddings, public speaking, and graduations. Because the aligners are not bonded to teeth as metal brackets and wires are, patients need not restrict their healthy diets. Hard foods such as nuts and celery present no problems as patients just take out their aligners when they eat.
Also important to successful treatment is diligent oral hygiene at home. Patients remove their appliances and brush twice a day and floss twice daily. Additionally, they perform simple maintenance on their Invisalign aligners. The dentists at Ambiance Dental Spa and their team suggest these care tips keep Invisalign aligners clean:
When brushing their teeth, patients should rinse and brush their aligners gently with a soft brush and non-abrasive toothpaste.
If it's not convenient to brush, wearers can thoroughly rinse their aligners with warm water and put them back in their mouths.
Aligners should be stored in a closed container to limit bacteria and prevent damage. Patients should not leave aligners on a sink, cafeteria tray or desk where they can be lost or damaged as that increases treatment costs and extends the treatment time.
Wearers should limit consumption of staining beverages such as black tea, coffee, red wine and cola and take aligners out when eating and drinking.
Efferdent or another quality denture soak should help eliminate odors from oral bacteria.
Always Follow Your Dentist's Advice
Patients, please heed your dentist's recommendations regarding Invisalign treatment. Routine maintenance, oral hygiene, and compliance with wearing appliances daily for the prescribed amount of time produces straight, healthy smiles.
Contact Ambiance Dental Spa with your questions about Invisalign clear braces. We're an Invisalign Preferred Provider and will be happy to evaluate your teeth to see if Invisalign is the right choice for you.