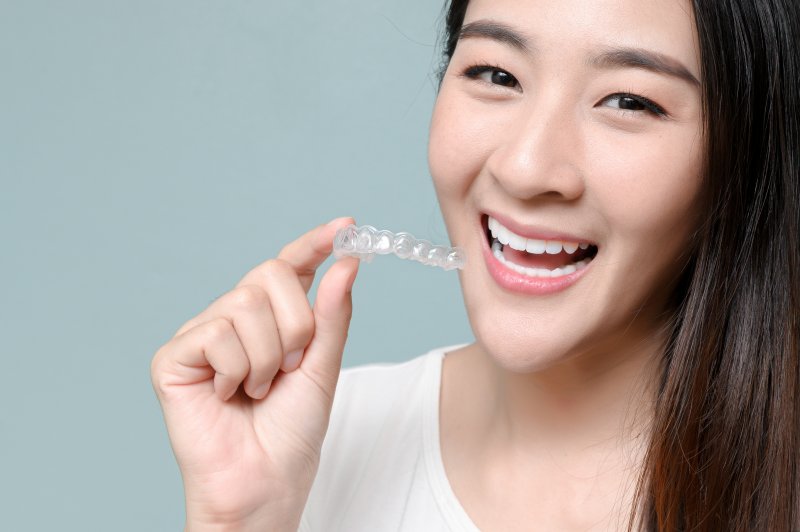 If you're familiar with orthodontic treatment, you've likely heard of Invisalign. It uses clear, plastic aligners to gradually move your teeth into a better position. But to achieve the desired result, it's crucial to keep up with the process and your orthodontist's suggestions. Keep reading to learn about four ways you can compromise your Invisalign treatment that should be avoided to continue toward a straighter, more beautiful grin.
#1: Not Wearing Your Aligners Enough
Not wearing Invisalign liners for the recommended 20 to 22 hours a day is a common way to disrupt the treatment process. Inadequate use of aligners can lead to delays or complications in treatment. Thus, it is important to wear them as directed by the orthodontist.
To avoid disrupting Invisalign treatment, it's best to remove aligners only while eating or drinking. Plan meals in advance to allow enough time for brushing and flossing before you putt them back on.
#2: Not Taking Your Invisalign Off Before Meals
As mentioned earlier, remove your aligners before eating or drinking, except for water. Failure to do so can cause staining or damage to the aligners, making them less discreet. Store them in a protective case during meals so that they remain safe while you chow down.
#3: Not Cleaning Your Smile Regularly
Invisalign treatment can be negatively affected by inadequate teeth cleaning. While people without orthodontic treatment only need to brush twice a day and floss at night, Invisalign patients must brush after every meal to avoid stained aligners.
Moreover, inadequate oral hygiene can increase the likelihood of cavities as food debris can become trapped beneath Invisalign and your pearly whites. Brushing thoroughly for two minutes and flossing after every meal can help prevent such complications.
#4: Not Using the Right Things to Clean Your Smile
Use appropriate tools and techniques when cleaning your Invisalign to avoid any damage. Avoid using hot water and bleach as they can cause distortion and wear away the plastic. Use a soft-bristled toothbrush and non-abrasive toothpaste to thoroughly clean the aligners. This will help keep them clear as well as lower your risk of developing cavities and other oral health complications.
In conclusion, Invisalign can be a great option for those who want to straighten their teeth discreetly and comfortably. However, it's essential to follow the treatment plan and take proper care of your aligners to achieve the desired results. By avoiding the common mistakes discussed in this article, you can maximize the effectiveness of your Invisalign treatment and enjoy a healthier, more beautiful smile!
About the Practice
Ambiance Dental Spa is committed to providing a comfortable and relaxing environment for your dental care needs. In addition to a variety of dental treatments, they offer orthodontic solutions such as Invisalign and can guide you on how to keep your treatment on schedule. If you are ready to learn more about Ambiance Dental Spa's orthodontic services or want to schedule an appointment with their skilled team, you can visit their website or contact their office at (301) 262-2624.