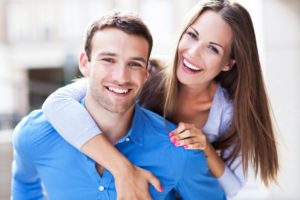 Vacations always come with their fair share of photos to remember your favorite moments. Of course, would you really want to remember these moments with pictures of you giving tight-lipped smiles or even worse, avoiding photos altogether? With treatments from your cosmetic dentist in Bowie, MD, you don't have to settle for skipping photos.
Remember your summer while smiling! Here are three cosmetic dental treatments that can give your smile the boost it needs this summer!
Teeth Whitening
Celebrating your loved ones graduation or kickstarting a month-long road trip starts with a photo to remember the beginning of something beautiful. Thanks to incredibly fast whitening systems like Phillips Zoom! Whitening, you can get a smile multiple shades whiter in less than an hour. This is a great solution to getting a whiter smile when you need it as soon as possible.
Of course, for patients who are already about to leave their town for vacation can make use of take-home whitening trays from KoR Whitening! This powerful system can whiten teeth up to 16 shades in just two weeks when used daily. What a perfect way to stay productive while sitting in a car for hours!
Cosmetic Bonding
Vacation can make people try things they never have before, including new foods from other parts of the country and even the world. To protect your teeth, consider cosmetic bonding as an alternative to amalgam fillings! With composite resin, your dentist can provide a superior solution to restoring teeth. Additionally, composite resin can be blended to match your existing teeth precisely, so there's no worry of others noticing your fillings.
Porcelain Veneers
Sometimes when you have multiple imperfections in your teeth, you just want to hide them all simultaneously. Luckily, your dentist offers three types of porcelain veneers to make that happen.
Traditional Porcelain Veneers – For those with time before the big trip, these thin, durable, customized sheaths of porcelain take two to three visits to place. While they take the longest to make, they should also last the longest compared to the alternatives.
Edelweiss Veneers – For those who can't wait to have their veneers placed, Edelweiss veneers can be placed in a single visit! No temporaries or waiting time necessary to make quick fixes to discolored or improperly-shaped teeth.
Uveneers – In a single visit, you can have an entire set of veneers produced and placed with minimal enamel preparation. This solution is ideal for those trying to transform their entire smile overnight just in time for vacation!
When you have a graduation ceremony, wedding, road trip, or cruise just around the corner, you shouldn't have to wait to get your perfect smile. Schedule an appointment with your cosmetic dentist in Bowie, MD today to get started!
About the Author
Since she started practicing, Dr. Clarine Green Hightower has taken multiple continuing education courses on improving the appearance of patients' smiles, including on porcelain veneers. Cosmetics is her passion, so she hopes you give her the chance to show it through her numerous dental treatments. To learn more about her practice, contact her through her website.