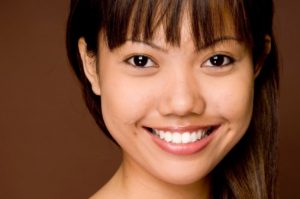 It's unavoidable — years of good living take a toll on the shade of your smile. Coffee, red wine, even super-healthy blueberries all contribute to the gradual darkening of those pearly whites. Well, maybe you can't stop it from happening, but you can reverse the signs of dingy teeth by choosing an effective teeth whitening treatment from your Bowie dentist. We offer two options, at-home teeth whitening and in-office treatments, depending on which best meets the needs of your unique goals and lifestyle. Read on to learn about each option, and which may be right for you.

In-Office Treatment: Philips Zoom! Whitening
Because they deliver incredible results fast, in-office whitening treatments are often the preferred choice for patients who have a big event coming up, like a wedding, reunion or graduation. When it comes to in-office solutions, Ambiance Dental Spa prefers Philips Zoom! Whitening treatments for their excellent results — and we know you will, too.
Zoom! Whitening is one of the most trusted teeth whitening solutions today. By using a whitening gel that's activated by a special light, the Zoom! treatment works in less than an hour — and the result is a smile that's dramatically whiter. This option has been proven to deliver longer-lasting, more natural-looking results — for a smile you won't want to hide ever again.
At-Home Treatment: KöR Deep Bleach Teeth Whitening
Maybe you don't need such urgent results, or perhaps you'd prefer to do your whitening treatments from the comfort of your home. Whatever the reason, Ambiance Dental Spa offers an excellent at-home teeth whitening treatment: KöR Deep Bleach Teeth Whitening.
This system works deep to lift even the most severe stains from your teeth. First, we'll fit you with whitening trays designed especially for you unique mouth. Then, you'll treat your teeth with a special gel at home for two weeks, and we'll finish the process off with a final whitening treatment in our office. The result? Incredible: a smile that's up to 16 shades — that's right, 16 shades — whiter than before. But those dramatic results don't mean it's hard on your teeth. In fact, most patients report it's the most gentle whitening treatment they've ever used.
Why Choose Whitening Treatments Through Your Dentist
Many adults are tempted by the cheaper, one-size-fits-all whitening treatments offered over-the-counter at the drugstore. But we want to encourage you to trust your teeth to someone who knows — and who knows better than your cosmetic dentist at Ambiance Dental Spa? When you consult your dentist in your teeth whitening treatment options, you'll be getting the care and guidance you need to maintain your oral health now, and for years to come.
Schedule Your Consultation Today
If you're looking to whiten your teeth this fall, don't hesitate to schedule your appointment with Ambiance Dental Spa. We've been bringing dazzling smiles to the Bowie, 20720 community for years — and we can't wait to see what's possible with yours.