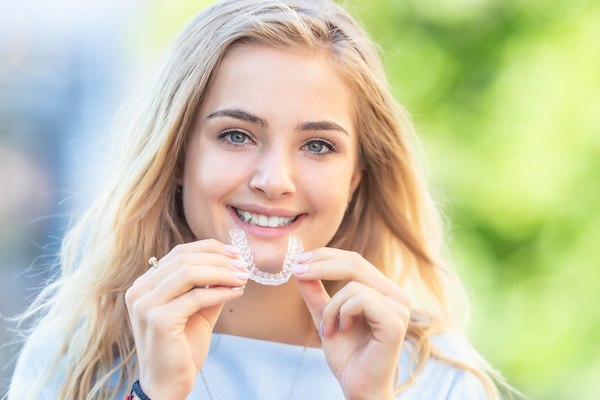 In most pop culture, the idea of straightening teeth is still associated with traditional, metal braces. "Want to fix your crooked smile? Get ready to wear brackets and wires for the next couple of years!" That being the case, many people still aren't familiar with alternatives like Invisalign. Clear aligners can seem odd and unknown as a result. Even so, that shouldn't hold you back from a highly practical option.
For those who want to learn the Invisalign treatment process, here's a five-step summary of how it works. Read on to see how aligning trays can give you a straight, beautiful smile!
Step 1: The Consultation
The first step is a consultation — an appointment that helps your dentist know whether Invisalign is a good path for you. If they decide you qualify, they'll answer any questions you have before going forward and help you take the next step.
Step 2: Gathering Diagnostic Records
Invisalign aligning trays are customized to each patient's teeth, so gathering diagnostic records is essential. The photographs and X-rays taken at this stage will be given to lab technicians, who'll then use them to create effective, comfortable trays.
Step 3: Receiving the Aligners
Once the completed aligners are received from the technicians, your dentist will have you come back for your first placement appointment. They'll then examine the fit between the trays and your teeth to see if further adjustments are needed.
This appointment will generally teach you how to care for your trays, share a few best practices, and ensure you know when to transition to your next aligner set.
Step 4: Follow-up Appointments
Although you'll work through your trays independently, follow-up appointments are essential to Invisalign. These visits ensure treatment progresses smoothly and provide you with your next set of aligners. They also let you ask any questions that have come up along the way.
Step 5: Getting Your Retainers
After completing the alignment, you'll have your new and improved smile! However, you'll have to wear a retainer from that point on to preserve your hard-earned results.
In most cases, you'll be instructed to wear said retainer for at least twenty hours a day for six months to a year. After that, you can transition to wearing them nightly.
Hopefully, Invisalign doesn't seem as odd compared to the better-known metal braces. If you're ready to try it yourself, get in touch with your dentist to discuss a treatment plan.
About the Practice
Ambiance Dental Spa is based in Bowie, MD. Led and run by local dentist Dr. Clarine Hightower, their team works to ensure every patient receives top-quality dental care. They thus offer a wide range of preventive, cosmetic, and restorative dentistry, not to mention emergency dental services. The practice also has flexible hours, open until 6pm three days a week. For more information or to book an appointment, they can be reached at their website or by phone at (804)-288-5324.