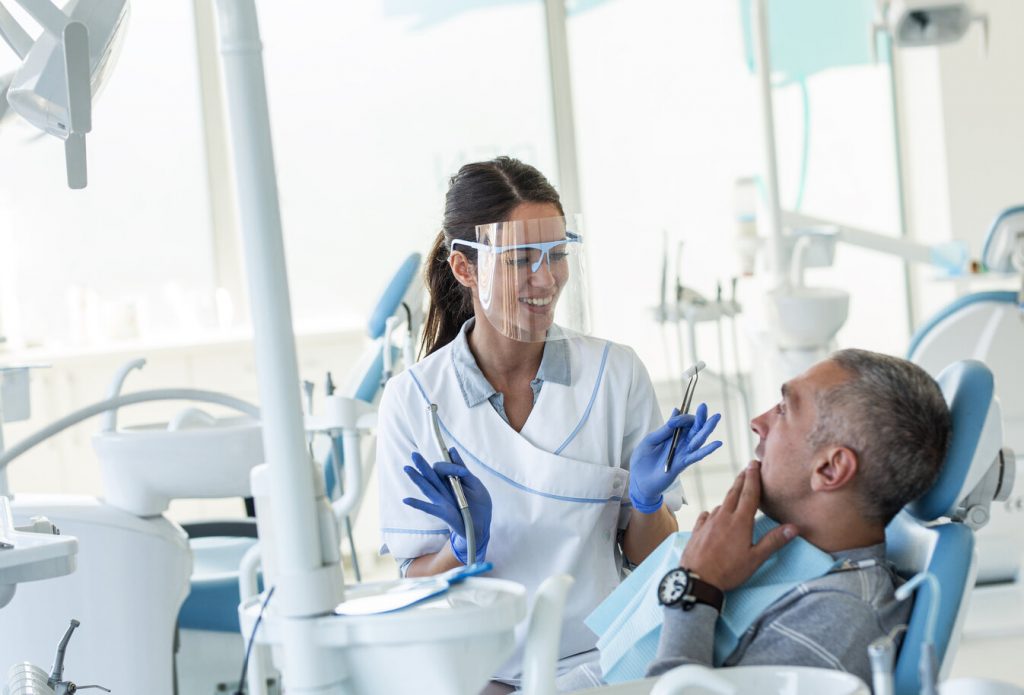 If you're unsatisfied with your smile, you may be considering cosmetic dentistry to straighten it. There are several ways your dentist can make your pearly whites more uniform, including with dental veneers and Invisalign. Though these are both excellent ways to achieve a more aesthetically appealing smile, how can you know which one is the best option for you? Read on to learn the difference between Invisalign and veneers to help you determine which one is the best option for you.
How Invisalign Works
Invisalign uses a series of custom-made clear aligner trays to gradually push your teeth into the right position. It needs to be worn for at least 20-22 hours each day to be as effective as possible. Invisalign has become one of the most popular orthodontic treatments available due to its many benefits, including:
Nearly Invisible –Invisalign clear aligners are nearly invisible, which allows you to smile confidently without sporting a mouth full of brackets and wires.
Removable –Since Invisalign is removable, you can continue eating your favorite foods. This also makes it easier to properly brush and floss your teeth.
Comfortable –These clear aligners are made from smooth plastic aligners, so they're much more comfortable than traditional metal braces.
Correcting orthodontic issues –WhileInvisalign can address several cosmetic issues, it can also correct orthodontic problems, including gaps between teeth, crowding, and bite problems.
How Veneers Work
Veneers are thin shells made out of dental-grade porcelain that are permanently bonded to the front of the teeth. They require the removal of a small amount of tooth enamel so that they fit snuggly and can conceal a range of dental imperfections, including crooked, gapped, and misaligned teeth. Veneers offer several benefits to patients, including:
Versatility -Veneers are highly versatile and can conceal a variety of smile imperfections, like chips, gaps, and stains.
Protection –If your tooth enamel has eroded and the tooth is at an increased risk of sensitivity or decay, these durable porcelain shells can protect it from harm.
Long-lasting –With proper care and a good oral hygiene routine, porcelain veneers can last upwards of 15 years before they need to be replaced.
Red carpet-ready results -Top celebrities like Tom Cruise, Morgan Freeman, and Miley Cyrus have used veneers to achieve their award-winning smiles.
What's the Best Way to Straighten Your Smile?
Though both Invisalign and veneers are excellent ways to correct crooked teeth, the best option will vary from person to person. If you have minor alignment issues or want to disguise chips, cracks, or gaps, veneers may be the right option for you. If your alignment options or more severe or you don't want to permanently alter your teeth, Invisalign is likely your best bet.
The option is ultimately up to you, but visit your cosmetic dentist for a consultation so they can give you some guidance on which one is best for your unique situation. They will be able to do an exam of your pearly whites and determine which procedure will give you the smile you desire.
About the Practice
Are you interested in straightening your smile? Dr. Clarine Hightower, Dr. Candace Kwakye, and their team at Ambiance Dental Spa can help. They offer cosmetic dental treatments like porcelain veneers and Invisalign clear aligners to help you achieve the smile of your dreams. Do you want more information on whether dental veneers or Invisalign is the correct option for your smile or to set up an appointment? Call Ambiance Dental Spa at (301) 262-2624 or visit their website to get started.