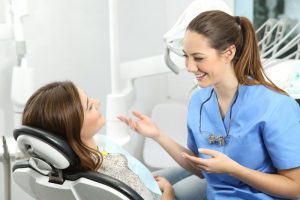 Did you know that your dentist cares about the health of more than just your mouth? They're just as interested in the well-being of your whole body. That's because the line between general health and oral health is blurrier than you might have thought. Many dental conditions can lead to overall health issues and vice versa, so it's important to share your medical history with your dentist just as you would with your doctor. Here are five things you should definitely mention at your next dental checkup.
1. Medications
Keep your dentist up to date with the medications you're taking, including any changes to the dosage. Some medications impact your oral health in strange ways. A common side effect of many medications is dry mouth. Over time, chronic dry mouth can increase the risk of thrush, gum disease, and other oral health concerns. You should also tell your dentist about any supplements you're taking, such as over-the-counter vitamins or herbal remedies.
2. Bleeding Gums
Contrary to what you may have heard elsewhere, it's not normal for your gums to bleed after brushing or flossing. This often indicates gingivitis – the first stage of gum disease. Gingivitis can be reversed if treated early enough, so the sooner you alert your dentist, the better.
3. Jaw Pain or Headaches
If you've been experiencing regular headaches, migraines, or pain in your neck or jaw, let your dentist know. These are common symptoms of a problem with your temporomandibular joint (TMJ), which connects your jawbone to your skull. Your dentist can determine the cause of this pain and come up with a treatment plan to stop it.
4. Diabetes
Diabetes can famously cause health problems throughout the whole body, including the heart, kidneys, and immune system. It should be no surprise that it can also affect your oral health. People with diabetes are more likely to develop severe gum disease, which in turn can raise blood sugar levels. If you have any type of diabetes, give your dentist updates on how your condition is going.
5. High Blood Pressure
Also known as hypertension, high blood pressure is the most common chronic heart condition. To monitor your safety and general health, your dental team takes your blood pressure at routine checkups and before any dental procedure. They need to know if you've been diagnosed with hypertension. Poor oral health, especially gum disease, can further increase your blood pressure. It might even make your medication less effective.
Do you have an upcoming dental checkup? It may help to write down a list of your current medications and any health changes since your last visit so that you don't forget anything. That way, your dentist can be well-informed about your health status and make sure your smile and your body are as healthy as can be!
About the Authors
Dr. Clarine Green Hightower and Dr. Candace Kwakye lead the team at Ambiance Dental Spa by providing comfortable, high-quality care in a spa-like dental office environment. They both aim to help their patients achieve healthy, confident smiles without the clinical atmosphere of a typical dental office. If it's almost time to schedule your next dental checkup in Bowie, MD, contact Ambiance Dental Spa at 301-262-2624.