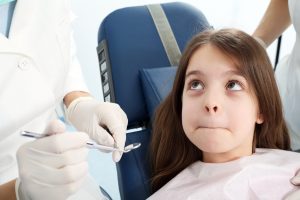 Your child always keeps you on your toes – she's smart, funny, and creative. You love seeing her smile, and want to make sure her oral health is up to par. So, you schedule her first appointment with your superior family dentist in Bowie, Ambiance Dental Spa, since they have the expertise in children's dentistry that you can trust. You know she's in good hands, but, leading up to the visit, you can see that she's clearly nervous about it. How can you help her to overcome her fear of the dentist? Follow these top 5 tips from our team of trusted professionals – with our help, your kids will be excited for their next visit.
What Can I Do To Help My Child Overcome Their Fear Of The Dentist?
Dr. Clarine Green Hightower and Dr. Yumna Valiulla are both mothers themselves, and understand that kids can be afraid of the dentist, simply because it's a new experience for them. They suggest parents try the following 5 strategies to make their kids less afraid of the dentist:
Make It Fun – Watch cartoons, read children's books about the dentist, and use these coloring book pages and activity sheets from the American Dental Association (ADA) to make the idea of the dentist exciting and enjoyable for your children.
Start Young – Since kids are especially prone to dental problems and oral issues can happen as soon as teeth erupt, the ADA recommends scheduling their first visit no later than one year old. Make this visit about getting to know our team, education, and familiarizing your child with what happens during a dental exam.
Be Positive – Kids listen to their parents above anyone else, even to the small details you may not be aware you're sharing. Always speak about the dentist in a positive light, even if you've had your own dental challenges. If children know Mom and Dad aren't afraid of the dentist, they'll follow in your footsteps. And, avoid the words "shot," "hurt," and "pain," since what you say matters.
Be Prepared – At the visit itself, think about what will set your child at ease. Bring a favorite toy, teddy bear, or blanket. If your child has an older sibling who's been to the dentist, schedule their appointments back to back so your younger one can watch their big brother or sister enjoying their time with the dentist. And, be sure to set up your visits after your child has eaten and not around naptime. Also, understand that fussing is normal, so be prepared for this common reaction from little ones.
Practice At Home – Giving your kids a smile that will last a lifetime starts at home, by practicing their oral hygiene with their parents. Be sure that your children brush gently for two minutes, twice a day and floss just as often. Brush right alongside your kids and encourage them to spit out toothpaste since too much fluoride can be too much of a good thing.
*BONUS TIP* Rewards – Rather than giving your children a sweet like a lollipop for being a good dental patient, use small rewards like stickers. Hold off on giving toys as a treat for regular appointments – save these for big visits where your kids have more advanced procedures like fillings.
Now that you know how to calm your child's fears about their dentist, schedule their appointment today with your children's dentist in Bowie, Ambiance Dental Spa. Our team will care for your child like they're our own!