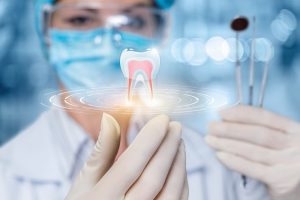 If you have recently been told by your dentist that you need root canal therapy, you may have immediately thought that was awful news! There are so many misconceptions about the procedure that normally the news is met with dread. However, root canal therapy is essential in treating advanced tooth decay. When a cavity goes untreated, it can go further into the dental pulp—the center of a tooth. Your dentist must then remove the infection to keep it from spreading to the root and other parts of your body. Read on for more important truths about root canal therapy!
#1. Root Canal Therapy Doesn't Cause Pain–It Stops It
One very popular and long-standing myth about root canal therapy is how painful it is. The truth is that most of the discomfort comes from the infected tooth! Root canal therapy is performed by dentists to treat an infection of the dental pulp (the inside portion of the tooth where the nerve is housed) caused by tooth decay. Unfortunately, these infections can cause severe toothaches, which may be why people associate the procedure with pain. But once the infected pulp is removed, the pain will be relieved. With anesthetics and dental sedation, getting a root canal is no more painful than getting a filling.
#2. Root Canal Therapy Can Save Your Tooth
It's a common belief that the benefits of root canal therapy are short-lived and eventually the tooth will need to be extracted. The truth is that it can save an infected tooth from needing to be taken out! By removing the infected parts, cleaning the canal, and filling and sealing the tooth, your pearly white will be preserved so you can maintain your natural smile and bite. If you practice good oral hygiene and maintain your biannual dental checkups, your results will last a lifetime.
#3. Root Canal Therapy Can Be Done Relatively Quickly
On average, it only takes one or two appointments to complete a root canal and a few days of healing afterward. The exact length of time will depend on how many teeth need to be treated and the extent of your dental condition. After your examination, your dentist will give you a more concrete timeline of what you can expect.
#4. Root Canals Do Not Cause Illness
Some people have heard that root canal therapy can sometimes lead to illness, but this is unfounded. While you will need to follow your dentist's aftercare instructions carefully to avoid infection, this is true of any oral surgery–the procedure itself will not make you sick. The common misconception about root canal therapy making you sick is one that you may come across when searching the web (playing "internet doctor" never helps with medical worries). This untruth is based on outdated research from the 1920s. The American Association of Endodontists (AAE) states there is no scientific evidence linking root canal treatments to illnesses or diseases. Since they are removing an infection from a damaged tooth, they're more likely to improve your overall health than to make it worse.
As you can see, there are some important truths to know about treating an infection of your inner tooth. By getting root canal therapy, you can return to a whole and healthy smile as soon as possible!
About the Author
Dr. Clarine Hightower and her team at Ambiance Dental Spa are eager to help you keep your smile whole and healthy! She earned her dental degree from the Howard University College of Dentistry and completed an Advanced General Residency. By using advanced dental technology and personalized plans, she offers a full range of services, including root canal therapy. To schedule an appointment, contact her through her website or call (301) 262-2624.