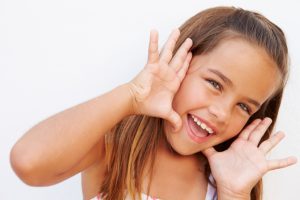 As a parent, your child's healthcare is one of your top priorities. Finding the right doctors to work with that will build a relationship with your child and put them at ease is so important in setting them up for successful doctor's visits. The same goes for your dentist! Those first few trips to the dental office are crucial in creating excitement about future visits, and wouldn't it be nice to find a dentist who could meet the entire family's needs so you don't have to make multiple trips and appointments? Ambiance Dental Spa is your premiere dentist for Bowie, MD families! Your children's dentist in Bowie discusses the details of your child's first dental visit and other services designed specifically for children.
At What Age Should My Child First See a Dentist?
Dr. Clarine Green Hightower and Dr. Yumna Valiulla recommend that your child make their first visit to Ambiance Dental Spa around the age of two, unless you have concerns earlier. The first visit will be spent acclimating your child to the office, providing a ride in the "big chair," and introducing your child to the dental instruments we use. Our team strives to make all of your child's visits to our office positive and upbeat so they will look forward to future visits.
Our doctors will provide an examination and "count" your child's teeth. This is a good time for Dr. Hightower or Dr. Valiulla to review any findings or developmental concerns you should be aware of.
Additional Services for Children
At Ambiance Dental Spa, we offer a number of additional services for children to help ensure that their teeth are protected from tooth decay and cavities. Even though baby teeth will eventually fall out, it's very important to keep them strong and healthy because they have many important jobs to do. These little teeth help your child develop their speech and navigate solid foods, as well as guiding your child's permanent adult teeth into place when the time comes.
We offer fluoride treatments to help "build" and strengthen your child's developing teeth. Sealants are a thin plastic coating that will cover the grooves of your child's molars and protect them from tooth decay and cavities. As your child gets older we can begin to discuss if orthodontics may be necessary and what your options are. Helping your child maintain a healthy and beautiful smile for a lifetime is our number one goal.
If your little one is ready for their first visit, contact our office today. We offer a full range of services to accommodate the entire family and we can't wait to meet you!